Nowadays, the Pandemic situation is there, so it's a good time for all the students, for you to explore your knowledge by learning more and more skills free by the home itself. And be a silent killer and show your skills by your results. So I am here to get you lots of free courses from Coursera and let you explore your skills in your interested domain and technology.
So let us get into the topic, we are here to help you out in buying paid courses from Coursera for free of cost ✅✅✅ using Financial Aid in your interested domain. Since Coursera provides lots of courses of various known national and international universities with good teaching skills. Coursera provides a global open online course learning system for students to enhance their learning with over 2,500 courses, specializations, and academic degrees. That said, Coursera is an open platform, so each specific course will vary in quality and depth of information.
To buy free courses from Coursera: You have to follow these steps–
Step 1: Go to https://www.coursera.org/ and create an account on it.
The first thing just goes through https://www.coursera.org/ and creates a free account. This is an essential step you have to do before enrolling in any courses for free. Surprisingly, the sign-up process is very simple and easy, just you need to enter your name, email id, and password. You also have an option as Facebook, Google, or Apple for sign up.
Step 2: Search For your Desired Course.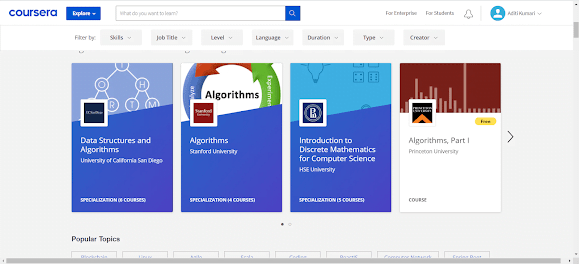 Now we have created our account and are signed in, we can go now and search for 1000 courses available on Coursera. For example, I am interested in Data Structure and Algorithm courses, so I will simply search for this query and we got our results. If you want to enroll in a single course just pick it up and click on it.
Step 3: Click on Financial Aid Available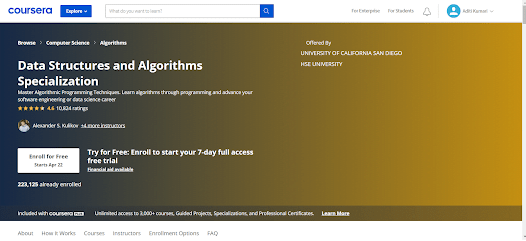 Once you have selected your desire course, you will redirect to the landing page, where you will find financial aid available. Since these courses are paid courses but you won't learn these courses for free, so you have to click for financial aid available. If you are happy with these courses by checking the syllabus and all, then click for financial aid available.
Step 4: Fill in the required details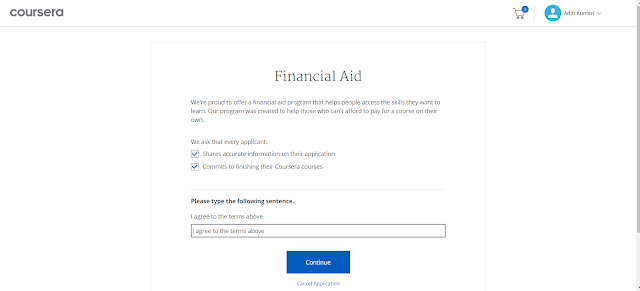 After clicking on financial aid available, you will redirect to this page and you need to fill in these details, If you want a sample answer:
Why are you applying for Financial Aid? (150 words minimum required)
I am a student of B.Tech in Computer Science at GIET University. I do not have any source of income to pay for this course. I belong to a lower-middle-class Indian family and cannot afford to pay for this course. I did the first course in this specialization Data Structure and Algorithm through the financial aid provided by Coursera. I found it helpful for my career as a Programmer and backend Developer. Receiving this Financial Aid will open a new horizon of the world of Coursera courses for me. That, in turn, will help me in future goal and building a successful career. I also plan to complete all assignments on or before time as I have done in the previous course. The Financial Aid will only push me further towards my goals and my dreams of one day having a successful career as a Programmer and backend Developer.
How will taking this course help you achieve your career goals? (150 words minimum required)
I am pursuing B.Tech in Computer Science from GIET University. I want to complete the course as I found the course helpful for my career and also that I can put a good CV to get applied to a job. This course will boost my job prospects after graduation from University. It will help me perform better in my career as a Data Scientist and give me an edge over my competitors. A verified certificate will attach credibility to the certificate I receive from this course. Completing this course will boost my self-confidence, knowing that I not only completed a very important task but also took the responsibility of creating a foundation for getting me closer to my career goals. Also, I intend to participate in Discussion Forums, which I have found to supplement my learning immensely. I also plan to grade peer-reviewed assignments which I believe will an invaluable learning opportunity.
If you answered no, please help us understand why.
As I have already mentioned above that I am presently a student pursuing my B. Tech from a Cs background doesn't have any source of income to pay for my course. It's not even possible for me to pay the loan. As my parents have a limited source of income and my present education is also on the bank loan. Taking this loan will become a big burden on me and my family. It would be a great help if I get this course. I will surely contribute to this platform which is helping me grow in my time of need.
Now, If you are facing difficulty to write then you can just copy and paste these sample text answers and submit your application. By successful submission, you will redirect to this below page. And your application will be approved within 15 days. Keep patience, it will take, but for sure you will get this course for free and after completion of your desired course, you will get a certificate.
Hope it will help you in getting your desired course free of cost. Although some Coursera courses are free and but if not free, then you can apply for financial aid and get your courses for free.
Conclusion
Hopefully, this article will be useful for you in getting your desired course free of cost✅✅✅ using Financial Aid. and grab some premium knowledge with less effort. If this article really helped you in any way then make sure to share it with your friends on social media and let them also know about this amazing tips about Financial Aid on Coursera. So, be with us guys we will share a lot more free courses and their exam/quiz solutions also and follow our Techno-RJ Blog for more updates.